I've decided to join in with the love your blog challenge hosted by A Playful Day. I feel it should be a great way to ease back in to blogging. It might also motivate me to finally re-vamp this space (do bear with me as I tinker away a bit). Every Monday during the month of April there will be a prompt for us to blog about and a link to others that are participating. Why don't you join in too?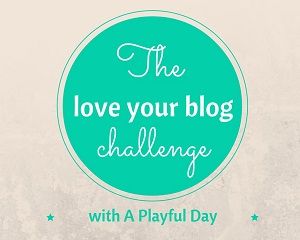 Interactions and Community
Community has always played a very important role in my life and coming to Algeria has made it even more important. I need that balance of having my own space, dealing with my familial responsibilities, interacting with those around me locally, internationally and online.
I know I've blogged previously about how I was inspired by other bloggers to start crocheting (now, what seems like a lifetime ago!), to try out continental knitting and to get some graphic design experience under my belt. I now find myself at a point where I turn to particular crafts for particular needs and one of my needs is to be able to "geek out" about it. To just talk about knitting techniques on Ravelry groups, future crochet projects at our local yarny sessions and to just ogle at some artwork that a friend has spotted online. Blogging was always a great channel for this but then life happened, changes occurred and it seemed easier for online, social interaction to take place on sites such as facebook. But in writing this post I've found myself looking back at my blog and seeing it at as my creative journal too. I have missed this space. This space which is a relatively visual one yet has a splattering of my words and thoughts.
I re-visit old projects in a bid to inspire those that are starting out on the crochet journey.
Having tasted full-on creative interaction online, I crave it in real life too. Which is why it was fairly easy for me to decide to work with Emma on Al Mubdiaat (The Creatives) as a local project here in Algiers; a kind of bricks and mortar version of Great.ly perhaps? Circumstances have led to a little delay in getting this project up and running but I hope and pray that we can it going again very soon. There are so many creatives here and so much beautiful work that I would love to share as much as I can with you in upcoming posts in sha Allah.
One of the things I aim to do these days, is to be more mindful in my day-to-day life, and that includes my creativity. I have to think about what I'm making and what I need and will I use it or will I sell it and will it sell and ... well there is a lot to think about! I don't want to dither around too much though. I need to take a leap with a few ideas I've been holding back on.
At times it can get a little lonely, once the storm of family life calms down and you're left standing at the kitchen sink full of dishes wondering where your place is. Sometimes you need a hand to pull you up and get you moving again (like an invite to an online creative group!). The people that come in to your life at those times, probably don't even realise what an effect they have on you.
I LOVE receiving post! What about you?
At other times, winning giveaways and receiving swap gifts can bring the warmth of online interaction literally in to your home. A few weeks ago I was under the weather and as I scrolled down my facebook feed I suddenly whooped with joy as I found out I'd won a crochet pattern in a giveaway! Don't you just love that feeling?
And she sent me these extras too! Aren't they beautiful?
My swap goodies all the way from Malaysia!
I enjoyed designing the art for this tote bag for my swap partner.
I remember Kirsty's My Creative Space and how it was a great source of creative interaction with others across the globe. This challenge can also be a way of sharing and forming connections.
a sneak peak at something I've been working on
I've always had a passion for creative work and I've always wanted to to do what I love. Interacting with others that are doing that is pushing me to get on with it too. Sharing our happy moments, our fears to do with taking the indie business leap, issues with branding and marketing and various other experiences and tips with others in the creative community all help a great deal. I love combining my graphic design work with crochet and a bunch of ideas go spinning through my head. But, I'll wait patiently until my latest swap partner receives her gift before I share one of my latest makes with you!
You can check in with others that are loving their blogs here!
#loveyourblog